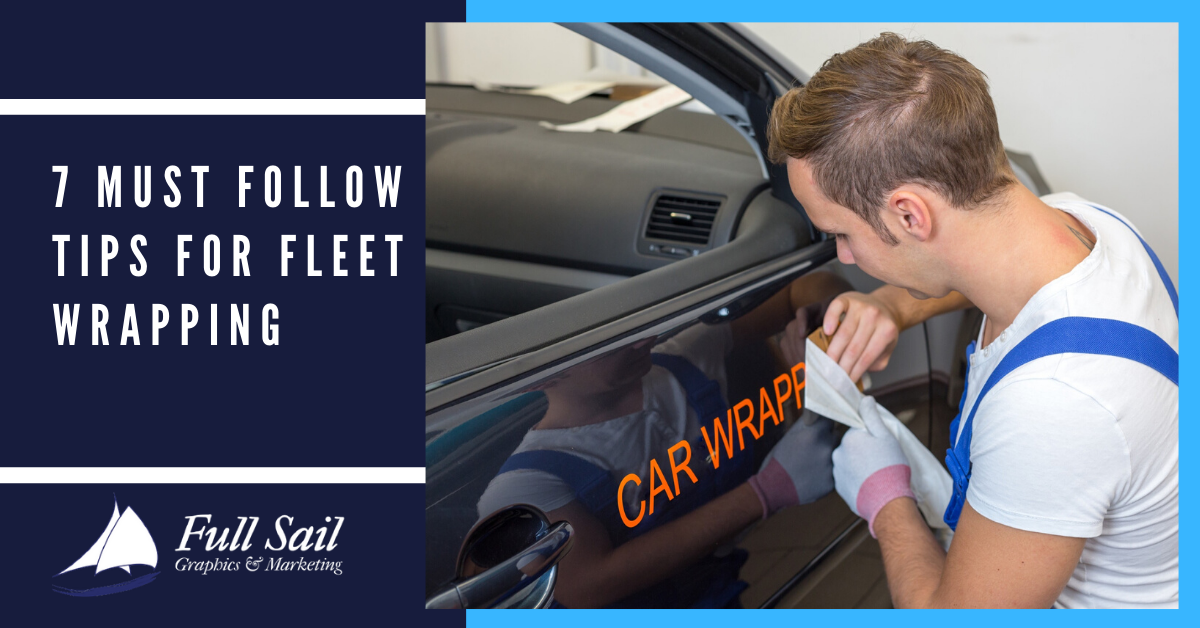 13 Mar

7 Must Follow Tips for Wrapping Fleets

Wrapping fleets is one of the best marketing options to catch a potential customer's eyes. On the road, vehicles that have a layer of colorful vinyl wrapped around them grab the attention of other drivers.

The use of car wraps and custom car graphics has grown over the last few years. This is true now more than ever. Creating smart car branding is a tricky situation. Choosing to brand your car takes time and work. Creative vehicle wraps don't happen overnight, but there are some great ways to make your fleet stand out.

Don't skimp when it comes to smart car branding. Take the time to consider these must-do tips when wrapping fleet vehicles.
1. Choose Material That Lasts
The quality of the vinyl you're using will have a lot to do with the direction of your smart car branding. The two top vinyl and laminate providers, 3M and Avery, dominate the industry. At Full Sail Graphics, we wrap with 3M.
Like most business products, you get what you pay for. You want a vinyl that not only performs on the road but will last throughout its warranty and maintain its quality should you eventually choose to peel it off to update your graphics.
The combination of vinyl and overlaminate can range from a mixture of 3M and Avery to other brands. Some businesses will use calendared or cheap laminate material to help reduce the cost of more expensive material. If you encounter this while searching, move on and find a business that will steer you in the direction of quality materials.
2. Don't Rush the Design
Creating a unique graphic design for multiple vehicles will not only be appreciated on the road but will drive up business.
Having a strong design team will make or break the quality of your advertising. Regardless of the policies of the design and marketing team you're working with, you want a designer who is available to bounce your ideas around with you. Because our designers are in house, we are able to offer you their consultation any time throughout the wrap process–as opposed to companies who utilize out of house designers, to whom they have limited access.
3. Bolder the Better
Vehicle wraps and designs have embraced the "bold is best" narrative. This is all for one reason — to get noticed. I mean, isn't that the point in the long run?
It's okay to think big when it comes to fleet graphics. These larger-than-life graphics will be on a vehicle for years. With the ability to put a large canvas to good use, don't skimp on what's being added to brand your car.
4. Hire the Right Install Team
This might be the most important piece to the puzzle when it comes to wrapping fleet vehicles and smart car branding.
A solid installation team will not only guarantee mistake-free graphics but will also ensure consistency. Your work needs to be consistent across the massive amounts of vehicles you'll be expected to produce for larger businesses that expect perfection.
Bubbles and wrinkles in a finished product are not up to standard. Problem areas like door handles and seams should look just as smooth as the rest of your vehicle. Regardless of the problems that could happen in the digital or production departments, not having the right installers could cripple your operation during its last stage before leaving the lot.
Installers finish the job after your ideas come to life. Make sure they're stepping up to the plate with confidence.
5. Simple and Sweet
Although large, colorful, and exciting graphics are the goal, don't distract drivers.
Too much copy isn't pleasant on any vehicle, let alone an entire fleet of them. Creative vehicle wraps aren't cluttered. It's best to keep copy to a minimum and let the design speak for itself.
Go with a strong and smart car branding focus. It could be a website or social media handle, phone number, a catchy slogan or strong brand identity. Highlight the message that consumers are supposed to take away from seeing your wrapped vehicle.
It sounds simple, but this is one of the most challenging parts of the fleet wrapping process.
6. Size Up the Vehicle and Photograph
Before you design an entire fleet's worth of vehicles, take a second to see one vehicle for yourself.
Taking photographs of the vehicle beforehand and jotting down key measurements of the sides, hoods, rear, and bumpers will guarantee accurate decals. During this process, you can also take into account body breaks, curvature, rivets, and other parts of the vehicle that could cause problems.
By doing this beforehand, you'll also be able to recommend specific vinyl or laminate for each vehicle.
Use this opportunity to take into account the customizations or paint/body issues that could come up during the project. It's vital when quoting out a vehicle for a client to be accurate with what you can do for their business and fleet.
Discussion before will save you headaches in the future.
7. Production to Create Smart Car Branding
If your process doesn't include a solid production journey, your vehicle wrapping is doomed. Vehicle marketing is set up for success during the production process.
You've decided on a design and now it's time to print. Find a company that will use the best printers for the job. The standard simple printer at any office won't get the job done. Vinyl prints need high-performance latex printers that are capable of printing high-resolution images through a mass production phase.
Larger printers will also be accompanied by a specific manufacturer's vinyl that has a unique printing profile. These codes are used for specific vinyl that needs direction regarding how much ink should be used for the best results.
This could be as simple as determining a 10 or 16 pass setting to print slower or faster based on the graphics. An over or under saturated design is to be blunt — ugly. Don't fall behind on the process of getting a vehicle wrap off the ground.
Graphics You Can Trust for Fleet Wrapping
With over fifty years of experience in the industry, Full Sail Graphics and Marketing gets the job done right the first time.
When it comes to smart car branding, the Full Sail team is confident in their ability to provide quality graphics on time and within budget. We use state of the art Hewlett-Packard, wide-format (60 inches) latex ink printers to create a high-resolution image you'll be proud to drive around.
No expense is spared when it comes to your graphics and ensuring quality work. The work we put in should match the work you do with your business.
Allow us to provide service that makes a difference. Quality work means satisfied customers at Full Sail Graphics and Marketing.