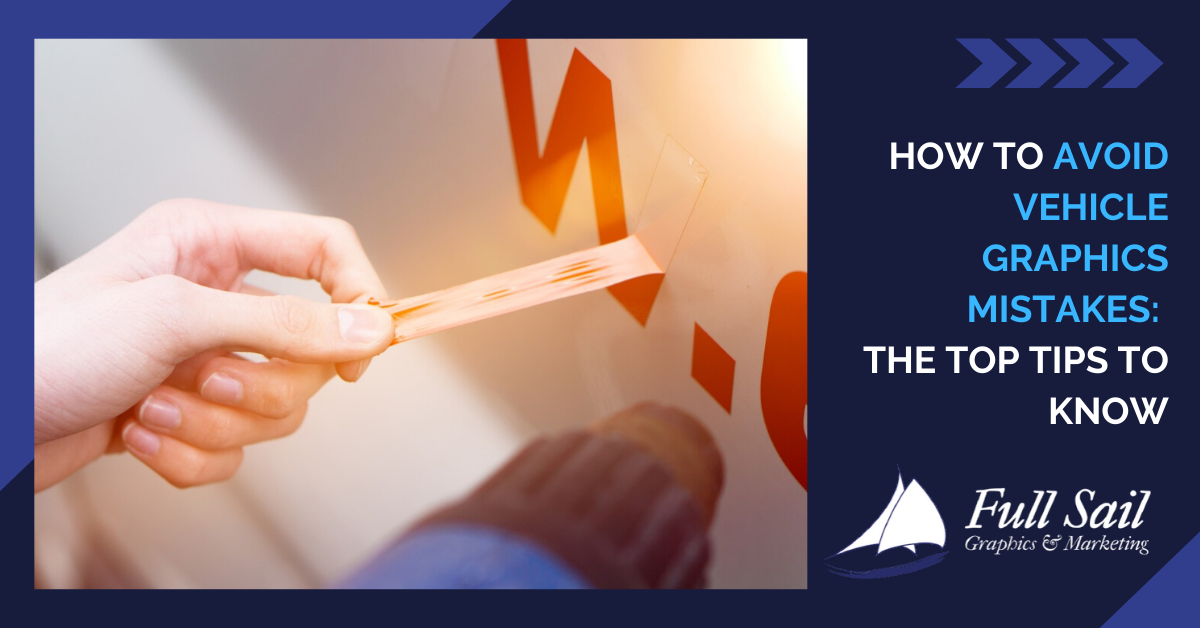 28 Oct

How to Avoid Vehicle Graphics Mistakes: The Top Tips to Know

With over 253 million cars on the road, you have a captive audience just waiting to communicate with you. So what's the best way to get a message to these millions of people?

Vehicle graphics can help your company by improving branding and awareness. But they're only useful if you do them correctly.

Read our guide to avoid these common mistakes that we see clients make when designing their vehicle graphics.
Too Much Information
Think of your company vehicle as a moving billboard. The people seeing it can only process and retain so much information. Even if the car is parked, a viewer walking by has limited time.
Limit the text you put in your design to the most critical details.
Company name
Contact information
Website
Call to Action
Something to indicate services
Tag line or slogan if you have one
Before you start designing your wrap, determine what the most vital information is. Focus on who you are, what you do, how to contact you, and a call to action.
The Design Is Too Small
Assume that no one will ever get close enough to read the fine print. Consider this, would you be able to read two to three sentences of fine print while driving on the road at 45 miles per hour? You wouldn't be able to.
Instead, remember that bigger is better. Be sure to balance the size of the text between readability and clean design. You don't want to make the font so big that everything crowds together.
The Font Is Illegible
Your vehicle isn't the place for an overly fancy font. You need to find a simple and clear font that someone can read at 55 miles per hour.
According to a study by 3M, a wrap can generate 30,000 to 70,000 impressions a day. If those people can't read your wrap, then those impressions are a waste.
Stay away from scripts or anything that looks like handwriting. Focus on choosing a sans serif font like Arial or Helvetica. This family of fonts has simple, clean letters that are easily scanned.
The Design Is Busy
It takes a delicate balance between attention-grabbing and clarity to have a successful vehicle wrap. You want to choose vibrant colors and bold graphics. This helps your vehicle wrap stand out in traffic.
But you don't want to throw everything on your wrap. Then it becomes too busy, and this makes people not want to look at it.
Keep your wrap from becoming cluttered. The only font should be the essentials we discussed earlier. Stick to two or three colors for the entire design.
The only exception is your logo. Use your logo with however many colors it has. But limit the colors in the rest of your design. The more colors you have, the harder you'll have to work at achieving the perfect contrast for a bold design.
Finally, limit your patterns. If you want to use a bold pattern, then limit your use of images. If you're going to use images, then keep the color design simple, so the images pop.
Lack of Consistent Branding
Your vehicle wrap is a chance to let your creative juices flow. But you can't forget that the purpose of the wrap is to build brand awareness. So you need to stick to colors and imagery that will relate to your brand.
If your company is sleek and modern, then you'll want that to show through your wrap. However, if your company is young and fun, you can get away with using neon colors and more shapes.
Your goal should be to have your vehicle instantly recognizable to someone as it drives by. A vehicle wrap for Coca-Cola wouldn't be effective if it weren't their signature red color. Or a wrap for McDonald's wouldn't work without those golden arches on it.
A Wrap and Design That Don't Fit the Vehicle
Think about the shape and lines of the vehicle you intend to wrap. You want the design to work with the shape of the vehicle, not against it. When you work with an experienced vehicle wrap service, they can help guide you towards a quality design.
You need to account for seams in the wrap where two pieces line up. Also, account for the minor gap in your design where the doors are located. Then think about other trim and detailing on the car, such as fenders, lights, and door handles.
Don't let your design get distorted by these features. Your wrapping service can help you position your vital information, so it doesn't cross these areas.
Finally, think about the size of the vehicle you intend to wrap. The scale is essential, as it will mean the difference between fitting everything on the car or not. You won't have the same design for a MINI Cooper as you would for a Ford Super Duty F-650.
Design All Sides
Put all of the vital information on all sides of the vehicle. People will rarely have a chance to walk around the vehicle. This means you need to give someone the entire experience on the one side they see.
Design and Order Your Vehicle Graphics
If you're ready to get started on your vehicle graphics, we can help. Our team can help you create a plan that grabs attention while staying true to your brand.
Once we have a quality design, we only use high-quality materials to ensure your vehicle wrap looks like new for as long as possible.
Contact us today, and we can help you create the perfect vehicle wrap for your business.