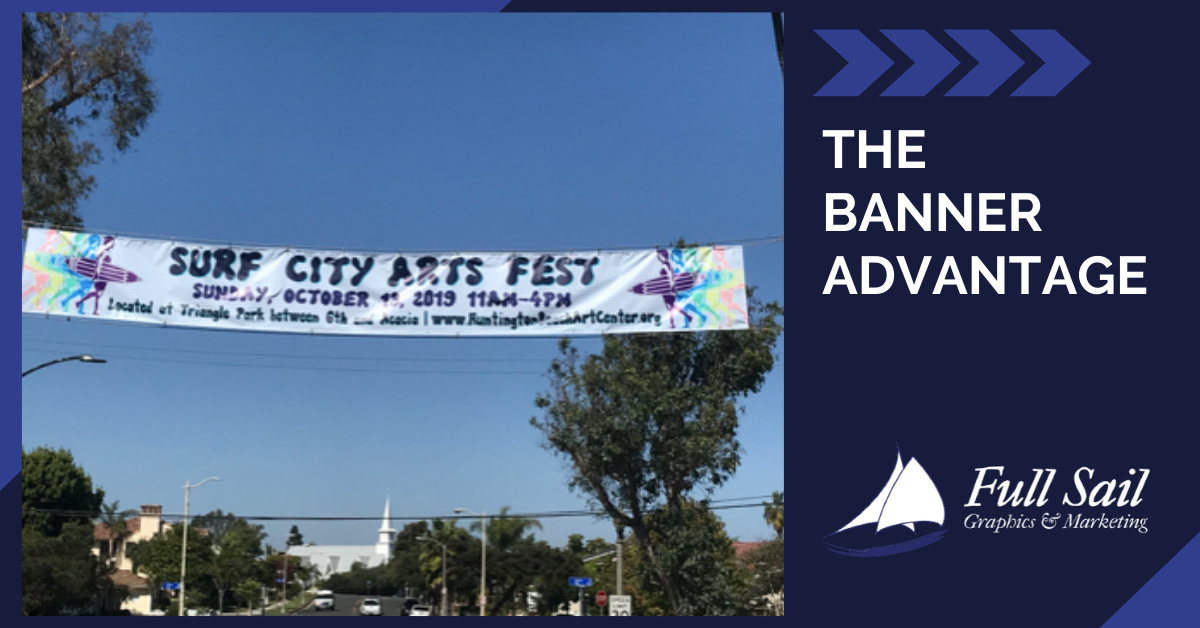 27 Jan

The Banner Advantage: 7 Benefits of Custom Business Banners

It is no secret that every business needs great marketing. Business banners are one of the most affordable and effective ways to reach your customers.

If you need to tell your customers, clients, or potential clients about a sale, promotion, or new service, custom banners are a great way to do so.

These easy-to-order and classic forms of marketing come in all different shapes and sizes and can be made to suit any budget.

From promoting an announcement to getting your name out there, we've rounded up seven reasons why banners are a great way to market your brand.
1. Business Banners Are Affordable
Banners are an affordable way to market your business or services. Because you can customize almost everything about a banner, you can make sure your banner stays within your budget.
Banner materials may also vary, making them a versatile solution. If you'd like a permanent banner outside of your store, for example, you may want to spend a little more for a longer-lasting material. This will save you a lot of money compared to other forms of exterior signage.
If you need a quick banner that will get tossed out at the end of a festival, go with a less expensive material to save on costs.
The bottom line is, a banner is inexpensive to make if you need it to be. On that same note, a higher quality banner can last for years, making them great investments.
2. Banners Are Quick to Order
If you need marketing for your business in a hurry, banners are quick to put together, and print, compared to other forms of custom signage that may take weeks to complete and be delivered.
Banners are also quick to design. If you need design services, professional designers can help you with font and color selections.
When you need a sign for an event or a promotion in a hurry, it can be really helpful knowing you can get something professional and effective printed quickly.
3. Banners Can Be Used to Make Special Announcements
Banners are great for every business. From stores to service providers, everyone has something to say to their customers.
If you're a store, restaurant, bank, car dealer, hotel, doctor, dentist, real estate agent, or construction company, just to name a few, you will likely need to make a special announcement at one point or another.
Banners are perfect for special occasions because they can also be taken down or put back up quickly. If you're just having a weekend sale or need to advertise something for the holidays, a banner can go up or down for your announcement in only a few minutes.
4. You Can Take Banners on the Go
Banners are incredibly versatile. One of the perks of a banner is that you can use them both indoors and outdoors.
If you're advertising at a festival, concert, or sporting event, you can roll up or fold your banner for easy and quick transport. You'll be able to take your banner with you when you go to your event and then pack it back up for later use.
Unlike some other forms of signage, vinyl banners can be used rain or shine as well. Because they are lightweight, you can easily pack them in your car also. With bulky metal signs, this sometimes isn't an option.
5. A Banner Is Easily Customized
Banners are never a one-size-fits-all type of advertisement. Banners can vary in size, color, material, and weight to meet your needs and impress your customers.
Don't settle for a stock sign. By using a banner that makes a statement, you'll have an effective way to reach your customers with your own unique branding or message.
You can add text, photos, or your logo to a banner to customize it exactly the way you need it.
6. Banners Are Durable
One of the best things about banners is that they are made to last. Banners are one of the most durable forms of signage.
You can use a banner over and over again in the California sun without having to worry about fading or damage for a long time.
Banners are made to be water-resistant, and they can stand up to UV rays, wind, and other elements that can damage other forms of signage.
If you need a permanent or semi-permanent sign outdoors, a banner can act as your business's main sign. You'll be surprised at how durable banners can be.
When you want to make sure you are choosing a sign that will last for years to come, a banner is a great option.
7. Banners Help Promote Your Business
The most important benefit of using a banner is that they help promote your business. Since banners are so easy to move around, if you have the opportunity to sponsor a sporting event or advertise at a festival, for example, you can easily add your logo to a banner and increase your brand awareness.
Promoting your business and getting the word out is one of the best ways to attract new customers or clients. Spread the news about what you have to offer and get your name out there.
Why Use Banners for Business?
No matter how big or small your business is, marketing your brand is the most important thing you can do to sustain your growth.
From real estate agents to stores and restaurants, banner ads are an affordable and easy way to market your business and reach your customers.
If you're ready to start customizing business banners for your marketing campaign or signage needs, fill out the contact form here to get a quote and get your project started.