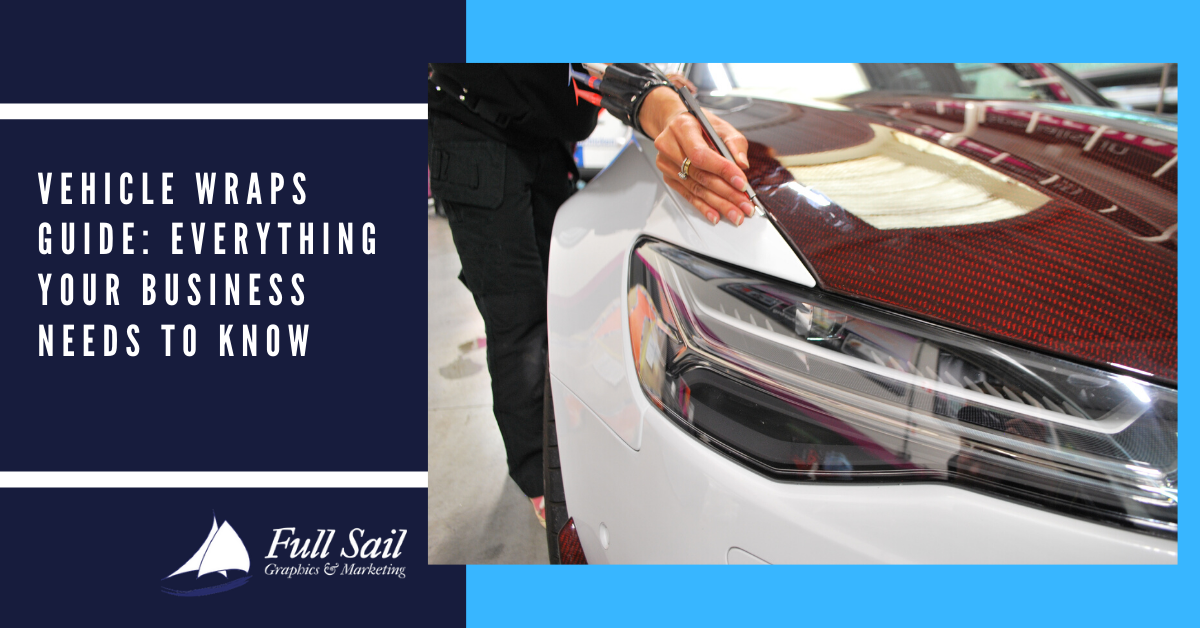 17 Feb

Vehicle Wraps Guide: Everything Your Business Needs to Know

In today's time-crunched society, businesses are constantly looking for ways to increase convenience. From two-day delivery services to personalized shopping experiences, every business finds a way to appeal to today's busy consumers. An often overlooked but critical form of convenience is convenience in advertising. Considering that more than 96% of Americans travel in a vehicle weekly, vinyl wraps can prove to be a game-changing measure to ensure that your company is noticed and noticed often.
Why Vinyl Wrap My Vehicle?
In a consumer study, 98% of consumers indicated that they noticed advertisements on vehicles. Although people might tune out the advertisements in their podcasts or ignore the flyers mailed to their homes, a bright vehicle with an eye-catching design on the road is nearly impossible to ignore. 
Not only is this form of advertising convenient for the client, but it is convenient for the business owner. A vinyl-wrapped car does not require regular trips to the post office or monthly upkeep–the simple act of parking your car in a recently discovered location while you are out on business could generate new leads! 
Increase Brand Awareness
Imagine you are an electrician starting out. Like any person embarking on a new business venture, one of the initial challenges is branching into business outside of your immediate network.
Finally, though, you've received your first job on a busy street. Just like any other day, you'll park your vehicle outside of your job site, where everyone who passes by can see your sharp advertising.
If you maintain the typical, stark white van, nobody will know what business you are engaged in. However, the addition of your logo through a vinyl wrap means that everyone passing by will have no alternative but to envision all of the ways in which they could utilize your services!
Lower Advertising Costs
Businesses advertise in a variety of different ways. Some businesses choose to create a commercial while others utilize online ads. Still, others choose to purchase hard copy flyers to mail out. All of these options cost money with no true guarantee as to the scope of your audience.
Branding your vehicle with vinyl wrap will give you the security of a one-time, up-front cost with the efficiency of a large scale advertising measure. With this brand of advertising, you can ensure that all local customers will see it on the road! Interestingly enough, in a recent study, 88% of consumers noticed advertising on vehicles while only 44% of consumers noticed the same advertisements through different means of advertising. Beyond that, studies have shown that vinyl wrap advertising costs as little as four cents per thousand impressions–an amount lower than nearly any other form of advertising.
How Does Vinyl Wrapping Work?
A vinyl wrap is essentially a large decal that is applied directly to the surface of your vehicle. Because vehicles pose unique design challenges such as smoothing a vinyl wrap over door handles and windows, the benefit of working with a company like Full Sail that provides both design and vinyl-wrapping services is evident. We are able to guide you through the process from brainstorming to transformed vehicle, with careful attention to the details that companies who only offer one of these services may miss.
What Should My Design Include?
At Full Sail, we are happy to help you turn your ideas into reality! When designing your perfect wrap, we will take two factors into account.
Advertising Goal
If your goal in investing in a vinyl wrap is to gain new customers, you will likely want to go with large lettering. This will attract potential customers' attention from hundreds of yards away!
If you are looking to tell an existing client base of new specials or changes in your company, consider a unique design.
Regardless of your intent, we are confident that we can create a vinyl design that will suit your needs and allow you to expand your business.
Choosing Content
There are two major objectives you must meet with your wrap design: tell the consumer what services you offer and provide them with the means to contact you! You do not want customers driving by uncertain of what services you offer–you may only have moments to garner their attention. If they cannot contact you, you cannot get their business.
Will Vinyl Wrapping Last?
At Full Sail, we utilize a material called cast vinyl wrap film. This type of vinyl is known throughout the industry as high-quality and is particularly known for retaining its color over time. Furthermore, because the film is poured into a mold and enhanced with plasticizers, it conforms to your car like a glove from the moment it goes on. An additional benefit of utilizing cast wraps over market alternatives is that cast wraps can be removed much more easily. When you choose to update your logo in five years, quality vinyl can be seamlessly removed to make room for a brand new wrap!
Make a Forever Impression with Vinyl Wrap
Regardless of your vehicle's wrap design, it is going to make an impression. Your local customer base is sure to see it on the road, parked at a job, or during a delivery.
Follow our vehicle wrap guide to get the perfect wrap for your business. A good vinyl wrap will help you to stand out and quickly gain notoriety as an expert in your field.
At Full Sail, we are confident in our abilities to take the spirit of your company and transform it into a high-quality vehicle wrap, allowing you to take advantage of the passive advertising for years to come. Call us today for a free consultation!