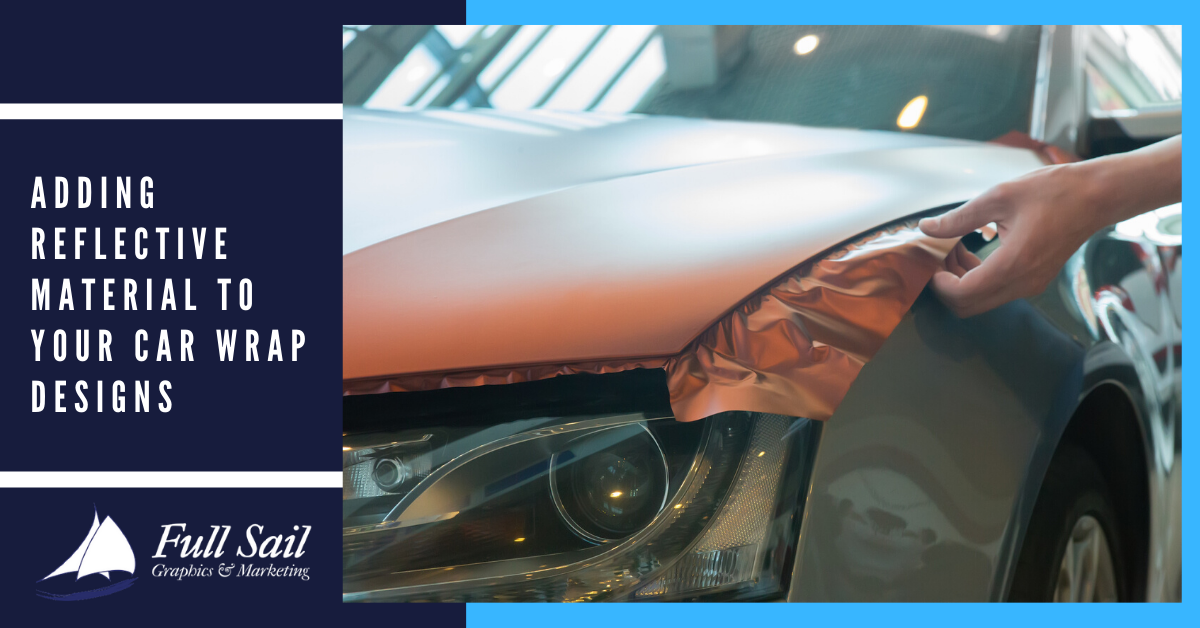 20 Nov

Adding Reflective Material to Your Car Wrap Designs

Car wraps are a great marketing tool. When a potential customer is sitting next to you in traffic, they see your message. All you have to do is park the vehicle to get free advertising.

The Out-of-Home Advertising Association of America states a car wrap gets up to 80,000 views a day. Of course, this exposure depends on the car's location and driving time, but with a car wrap, you can consider traffic jams good for businesses!

Vehicle wraps are a mobile marketing tool made of vinyl graphics and decals that cover all or part of the vehicle. Your wrap can be custom designed to include your company logo, message, contact info, and website, to turn your sales and service vehicles that are on the road every day into mobile billboards. One of the best things about a wrap is people can't change the channel when they see it in traffic.

While wraps are easy to see in the daylight, adding some reflective film will make your message visible day or night.

Keep reading to learn about reflective material for car wraps.
Adding Reflective Material to Car Wrap Designs
You've seen the reflective film on emergency vehicles at night. When a patrol car zips by, its high-visibility reflective images are easy to see. It keeps passengers and vehicles safer.
There are two types of reflective film: glass bead and prismatic. Each contains special components to help produce light. Traditional vinyl films don't have reflective elements.
The reflective film provides visibility day and night. When light hits the reflective film at night, it's easy to read. The reflection also improves safety by reducing the risk of collisions.
Glass Bead Reflective Film
Glass bead reflective film has a dense layer of spherical beads and a layer of metallic aluminum.
During installation, stretch glass bead film can be stretched a little without compromising it. However, if the film is over-stretched, it damages the glass beads, which won't reflect well at night.
It is important to check each section of the film with a light source during installation and correct any defects before finishing the wrap.
Glass bead films work best on advertising wraps, general signage, and decals.
Prismatic Film
Prismatic films are more complex and provide a more intense reflection than glass bead film.
The metallic microstructures found in prismatic films make them ideal for safety situations. This ability to reflect an optimal amount of intense light is why prismatic film is often used in roadway signage and emergency vehicles.
Custom Printing on Reflective Film
You can use UV inks on reflective film. But, UV ink is thick and opaque and can hide reflection qualities.
Consider the image density and ink coverage. The reflective film can't bounce any light if you cover it with ink.
Instead, get creative with your design. Reflective areas can help produce a wow factor through a mix of reflective and traditional film.
Designers are always finding creative ways to integrate reflective film into basic applications. Some reflective wraps even sport dual personalities with daytime views different than the nighttime reflective look. Reflective film also provides increased visibility and safety beyond vehicles, which is why it is often used for wayfinding and retail signage.
There are some other considerations to keep in mind before using reflective film on vehicles. For example, reflective film needs to meet ASTM performance standards before installing it. And the reflective tape used to mark trucks over 10,000 pounds and over 80 inches wide must meet DOT C2 standards.
You can find information under ASTM-D 4956 in the US. It identifies approved types of reflective film, adhesive backing, and vehicle application.
If you would like to use reflective film on your car wrap or other custom application, consult with our pros for advice on your design.
Installation Considerations
Reflective films are thicker and more durable than traditional films. The engineer-grade glass bead film can have six layers, while traditional films have three. The thick, multi-later material takes extra time and skill to install. Always choose an experienced installer when adding reflective material to your car wrap.
A stiff prismatic film breaks when it's stretched, destroying its reflective qualities. Installers need skill and experience to wrap curves and corners while retaining reflectivity.
Permanent adhesives used for most reflective media creates another challenge. Repositioning and removing the film is difficult because the adhesives are aggressive.
Stacking and overlapping films can create thick edges, which are vulnerable to abrasion and weather conditions. Some makers of glass bead and prismatic film address this issue with a more flexible film.
Take Advantage of Vehicle Wrap Advertising
The colorful graphics on a car wrap grab attention and boost brand recognition–and not just when you're cruising down the road. When parked in strategic locations, your vehicle wrap design can still reach your target audience and convey your business personality and purpose. It's a passive form of advertising many consumers appreciate because they can get information on your service without a sales pitch.
Professional car wrap advertising is effective in traffic or sitting outside your store.
Cost-Effective Advertising
Mobile advertising is an effective and efficient marketing strategy with a lower cost per thousand impressions (CPM) than other outdoor advertising. Car wraps make a significant number of impressions on consumers and are an inexpensive way to reach a broad audience for an extended amount of time.
Vehicle wraps last for many years. However, a wrap on a car parked in extreme weather will not last as long as it does on a garaged vehicle. Parking in the shade can add 3-4 years to the life of a wrap. Keeping the vehicle clean can reduce damage, too.
Harsh conditions can sometimes cause small bubbles to appear in the wrap. This happens most often during the first couple of weeks. If you notice any bubbling, don't press on them. Return the vehicle to the installer and let the pros fix on the problem.
Best of all, making changes to your vehicle wrap to update your message is easy and cost-effective. Professionals can easily remove and replace the wrap without damaging the paint underneath.
Ready to Try Reflective Film on Your Wrap?
Our team can help you reach your customers day and night with a professional car wrap.
Contact us today for more details on the reflective film. We're ready to help take your vehicle to the next level.